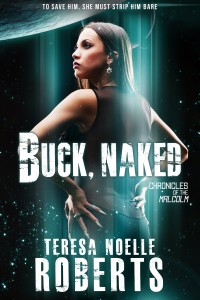 BUCK, NAKED
To save him, she must strip him bare.
Security expert Buck's senses are inhumanly keen, to the point he can see through time and space, and that's just the start of his odd abilities—thank you, alien captors. He also experiences paranoia, flashbacks, and the occasional hallucination—thank you, PTSD. No wonder he fears he could hurt one of the Malcolm crewmates he lives to protect, the closest thing to family he has left after the destruction of his home planet.
Brilliant scientist Aleema can teach him how to use his modifications without triggering PTSD. She's survived the same meddling aliens and suffered even more dramatic alterations. At least her unwanted immortality means she's had time to figure out how the modifications work and use the knowledge to aid other survivors. Helping Buck means spending some serious time together. Time enough to fall in love.
Just as happiness seems within their grasp, Aleema realizes one of Buck's modifications dooms him to an unthinkable future. To save him, she must place herself in the hands of their common enemy and leave Buck to face his worst fears without her.
Buy links with pre-orders available: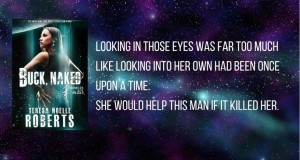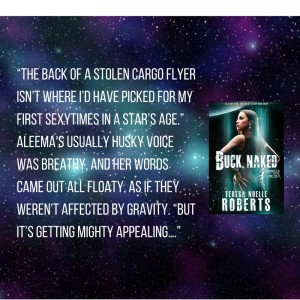 If you've read the previous Chronicles of the Malcolm books, Thrill-Kinky and Bad Kitty, you already know Buck's a little damaged. In this book, we learn he was the victim of some alien medical experiments as a POW, and they've had lasting effects--ones that will either make him more than human or destroy him. Aleema may be the only person who can help him, but she's also been warped by the same aliens. Their past experiences even mark their lovemaking, because they're both used to holding back their super-human strength.
She came screaming, her cries echoing wildly in the cave. For a second, Buck's eyes clouded as if he heard pain rather than pleasure. His free hand released her and he looked around wildly. "Who's hurting you? Oh stars, I'm hurting you. I…what have I done?"
His eyes glazed and she could feel him withdrawing. Next stop: Seera-head. "Exactly what we both wanted," she managed to say. "That was a good noise. Stay with me, you bastard. Stay with me. And keep fucking me hard."
She clenched even harder, rolled her hips, and scratched down his chest. Her nails were blunt, but she didn't hold back on the pressure. She knew he could take it.
His wild gaze caught her left hand and grew even crazier. Then he shook his head and his eyes cleared. "I ain't going anywhere. But you're goin' even further out of your mind. And I aim to go with you."
"No holding back. I won't even stay bruised for more than a few minutes."
He rolled her onto her back, still buried deep inside her. Began to drive himself into her hard and fast. Harder and faster than she'd have thought a human man could fuck. Even though it had been a long time since she'd had sex with another person, she had clear memories. Those memories told her that so much force and speed from such a big, powerfully built man ought to hurt.
It didn't. It felt like Buck's passion was sloughing away all the long, lonely years. Leaving aside fine words and similes, the rapid-fire fucking was pushing all her buttons, including some she had no idea she had, and rocketing her toward orgasm.
Stellar.
She growled deep in her throat, dug her fingernails into his ass.
"Too much?" he managed to ask, though it sounded like he was having trouble making his brain form even that simple sentence. She wanted to rhapsodize about how perfect it was, but coherent speech wasn't high priority at the moment.
If the first orgasm had been a nova, this one was a supernova, tearing her apart in a brilliant detonation, reforming her into something softer and saner than she'd let herself be in decades. This time, he yelled something that sounded like a victory cry and came with her.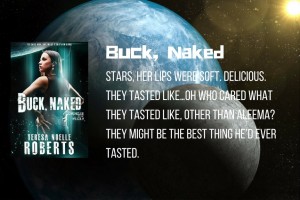 Photograph by Carmine Paladino
Over the years I've published erotic romances in subgenres including paranormal, science fiction, fantasy and BDSM contemporary; one hundred-odd erotica, romance and fantasy stories (some very odd indeed); and two books of poetry. My newest releases are science fiction romance Buck, Naked, Chronicles of the Malcolm 3 (To save him, she must strip him bare); kinky contemporary "The Lion of Frenchman Street" in the boxed set NOLA Naughty Nin9 (Jazz and BDSM in New Orleans); and BDSM-flavored romantic suspense Drive (He's a kinky dream come true, 15 years younger–and her only protection from danger). Click the covers for more info.
I'm also one half of the erotica and erotic-romance writer known as Sophie Mouette. (Dayle A. Dermatis is the other half.) As Sophie, we're the authors of Possessed, Undressed, and in a Mess, Out of the Frying Pan, Cat Scratch Fever, a romantic erotic mystery, the novella "Hidden Treasure" (which also appears in Bedding Down: A Collection of Winter Erotica, edited by the fabulous Rachel Kramer Bussel), and a great deal of short fiction, including stories in the holiday collection Sexy in Your Stocking.
When I'm not writing, I'm an avid gardener, a talented but messy cook (you should see the state of the kitchen when I'm done), an omnivorous reader, a yogi, a bellydancer, a proud geek, and, whenever I can manage it, a body boarder. Occasionally I sleep. I hear it's supposed to be good for you.
I grew up in the Finger Lakes region of central New York, the setting for both Lions' Pride and Out of Control, and I've lived in Manhattan and Paris. I now call a little town in southern Massachusetts, closer to Providence than to Boston, home. Here, I live with my husband, a Leo in law enforcement, and three insane cats.
Want to know more about me? Sign up for my infrequent mailing list for exclusive (and sometimes NSFW) excerpts and other fun updates. Follow my blog and look for me on Facebook, where I'll post about new releases and works in progress, as well as kitty escapades, garden updates, and other silliness from my daily life. I'm also on Twitter as TeresNoeRoberts.